Whether you are driving on the motorway, a secondary road or in the city center, traffic inevitably becomes more dangerous when it's raining. Even the safest driver can encounter problems on the road in wet conditions, and all brakes are less effective in wet weather, with the additional problem of roads being more slippery.
While in such conditions a cautious driving style is recommended, of critical importance is having good quality brakes which perform consistently and effectively in wet conditions. The last thing you want is a nasty surprise when hitting the brake pedal.
The reality is that in changing road conditions, the friction material used in your brake pads is critical. The friction material determines the stopping power of your brake system, but the quality of that material can ensure that changing conditions don't result in vastly changed performance.
R90 TESTS ARE ONLY CONDUCTED ON DRY CONDITIONS
European legislation stipulates that all brake pads sold for use on vehicles must be tested, and comply to R90 standards. The R90 test includes cold and hot brake friction analysis and if a brake pad has been R90 approved, it can be safely assumed that the product is within 15% of the original equipment product performance.
Because the R90 test is only conducted in dry braking conditions we decided to benchmark Ferodo brake pads against some competitor pads in wet braking conditions. Between the tested materials it's easy to see that Ferodo offers brake pads with the lowest reduction of friction level in wet conditions.
THE WET BRAKING PERFORMANCE TEST
The test comparing the reduction of friction performance in wet braking conditions between Ferodo pads and competitor pads was conducted on a Ford C-Max. Six brake applications in dry conditions were measured, after which the brakes were sprayed in water for another 6 wet brake applications. To be sure that all the tests are conducted with equivalent and consistent brake pads, all brakes were bedded in first using identical procedures on new discs.


The graph above shows you the percentage of friction level reduction – or brake performance – between braking in dry and wet conditions, with Ferodo showing the lowest reduction from dry to wet compared to some competitors.

THE RESULTS
As the chart shows, Ferodo brake pads have the most consistent reduction of brake performance under wet braking conditions when compared to the competition. Previously conducted tests have already shown that Ferodo provides short stopping distances, low brake noise and great pedal feel. We can now proudly add that we have some of the best wet braking performance - proving again that with Ferodo you're in control.
TEST PARAMETERS
Brakes fully bedded-in through a cycle of 60 brake applications.
Dry coefficient of friction is determined by taking the average of 6 brake applications from 80 to 30 km/h (50 to 19 mph).
Wet conditioning is achieved by spraying the brake system for 10 minutes with water at a speed of 30 km/h (19 mph).
Wet coefficient of friction is determined by taking the average of 6 brake applications from 80 to 30 km/h (50 to 19 mph).
Vehicle: Ford C-Max, at a gross vehicle weight (GVW) of 1990 kg (2 Tons).
Competitor testing conducted in Europe between 2010 and 2014 following European industry standards by Federal-Mogul at its European Research and Development test facilities.
Carly Jo Ellingson has won dozens of races during her comparatively brief drag racing career, but her latest victory tops them all. The 20-year-old Rapid City, S.D., native is the winner of the $50,000 grand prize racing sponsorship in the Champion® Spark Plug brand's annual "Search for a Champion" contest. Ellingson, who competes in the National Hot Rod Association's Pro E.T. and Super Pro classes, bested nearly 150 other leading grassroots racers from across the U.S. and Canada. "Performance Driven(TM)" Champion spark plugs, wipers and filters are products of Federal-Mogul Motorparts, a division of Federal-Mogul Holdings Corporation (NASDAQ: FDML). 
"I am thrilled to have the opportunity to represent one of the most popular brands in the automotive industry," Ellingson said.
Ellingson was selected from a field of 15 finalists whose 2-minute "Search for a Champion" video entries best demonstrated their passion and determination to win with the help of Champion products. Members of the Champion online community were invited to vote for their favorite videos through two rounds of judging, with more than 75,000 votes cast via the www.AlwaysAChampion.com website.

"Champion and Federal-Mogul Motorparts have given me a once-in-a-lifetime chance to advance my career and eventually compete at the professional level."Ellingson became interested in drag racing at age eight after seeing the movie "Right On Track," which chronicled the early racing careers of sisters Erica and Courtney Enders. Just one year later, Ellingson was behind the wheel of her own car in the NHRA Junior Dragster class, where she won nearly 70 events, six points titles and her first "Wally" NHRA national event championship trophy. In 2012, she moved up to the Pro E.T. and Super Pro classes with a restored, Champion-powered 1970 Ford Mustang that her father had first owned as a high school sophomore. She won two event titles and posted two runner-ups in her first season, sat out the next year following an accident, and then returned in 2014 to win two additional events.
"Carly Jo's passion for racing is obvious as soon as you start to watch her video, and it's clear that the Champion community found her story particularly compelling," said Jessica Wynn, global director, digital marketing and strategy for Federal-Mogul Motorparts. "She will be an exceptional representative of our company and the iconic Champion brand."
Search for a Champion participants competed for a total prize purse of $125,000 in sponsorships. In addition to Ellingson's $50,000 grand prize sponsorship, Federal-Mogul Motorparts awarded $5,000 Champion sponsorship packages to each of 15 finalists. The company also rewarded the Champion online community for its participation by distributing 200 voter sweepstakes prize packs featuring a Champion shirt, hat and decals.
Last paragraph change: To learn more about Search for a Champion and "Performance Driven" Champion products, please visit www.AlwaysaChampion.com. Follow the brand's Twitter feed and like us on Facebook. To identify the best Champion plug for any application, please use the free www.FMe-cat.com electronic catalog.
Southfield, Michigan, March 31, 2015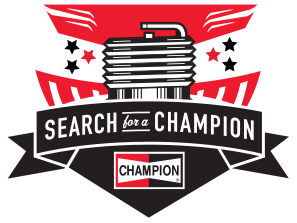 CONGRATULATIONS TO THE 2017 SEARCH FOR A CHAMPION GRAND PRIZE WINNERS
Champion would like to congratulate our 2017 Search for A Champion Grand Prize Winners: On the Track Grand Prize Winner Blake Brown and Off the Track Grand Prize Winner Derek Fetter.