Winning the Search for a Champion contest has been, by far, the most beneficial resource in advancing my racing career I have received to date (outside of family and teammates).
I cannot put a value on the experience of the contest as a whole. There are so many priceless benefits that have come through winning this contest. 
I took a big step forward in my personal communication skills just putting the contest video together, entering it for others to see, and asking people if they would vote for me. As I watched a grassroots push for me to win this contest in my community, and more and more people told me they were voting, my confidence grew. I felt that I had a real chance of winning this contest and furthering my race career dreams to a higher level.
The money I won from the contest played an essential role in the operation of our race team for the 2014 race season. I was able to race several series and new tracks. We blew an engine late in the season and where able to replace it and make the following race without missing out on the action. We had several race wrecks that we were able to repair and move forward from, as well. 

Winning the contest gave me a sense of accomplishment and encouraged me to focus on making my dream a reality.
I led the points for most of the Coca-Cola Super Late Model series at Norway Speedway and finished in the Top 5. I also finished Top 10 in the Tundra Super Late Model series, as well as, ran 10 races at Wisconsin International Raceway. I believe we would not have had this much success and extended race experience without the overall support of the great teammates at #TeamChampion.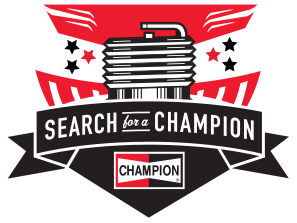 CONGRATULATIONS TO THE 2017 SEARCH FOR A CHAMPION GRAND PRIZE WINNERS
Champion would like to congratulate our 2017 Search for A Champion Grand Prize Winners: On the Track Grand Prize Winner Blake Brown and Off the Track Grand Prize Winner Derek Fetter.