Last month, AJ Flick took over Champion's Twitter and Instagram accounts to share his weekend racing in the World of Outlaws against some of the greatest racers on Earth. Check out his story below for the details:
Q: Where did the race take place?
A: Lernerville Speedway in Sarver, Pennsylvania on July 19, 2016. It was the $25,000 Don Martin Memorial Silver Cup.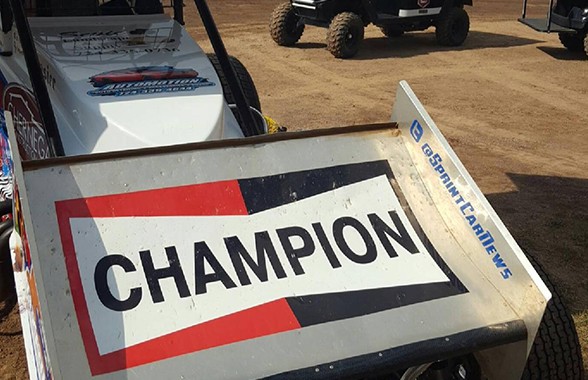 AJ shows off his Champion pride before his race!
Q: What were some of the most notable activities from the weekend?

A. Upon arrival at the speedway, I notice all these massive World of Outlaw haulers. They completely outmatched the size of ours. While walking through the pits, I got to see Sprint car legends, like Joey Saldana and Kerry Madsen. It's honestly kind of shocking to realize that you will get to race with these drivers.
Our race night started pretty average. We were decent in hot laps and laid down an average qualifying lap. Started 8th in the heat race, out of 12. After a great start, we were battling for the 5th and final transfer position. This is when the biggest twist occurred in our plans. The rear end broke with about four laps down in the heat race. After getting the car to the pits, the crew and I immediately went to work. It was the first time in my Sprint car career that we had to change a complete rear end at the speedway.
Sure enough, we got it changed barely in time for the B-main. I went out to take a few laps and pulled out early to use my track provisional and to start setting the car up for the A-main.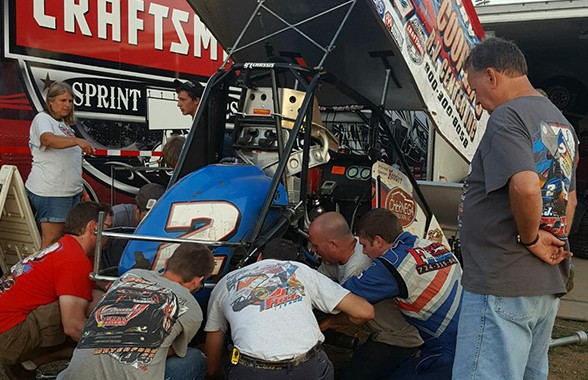 AJ and his crew work on a busted rear end.
Q: How did you do at the end of the weekend?
A. After starting 26th, we were able to race into the top-20 but then settled for 21st.
I was very happy with a 21st place finish. Especially considering there were over 50 cars and the issues that arose during the event. During the feature, I got to race with and pass my sprint car idol, Danny Lasoski, and that is one part of the night I will never forget.
Q: Anything else you'd like to share about your weekend?
A. After securing a 21st place finish against the World of Outlaws, we prepared the car to race again on Friday. We made our first visit to a track named Thunder Mountain Speedway. We proved our speed by absolutely driving off at feature time to pick up the big win! We re-prepped the car, again, and drove to a 4th place finish at Mercer Raceway Park on Saturday!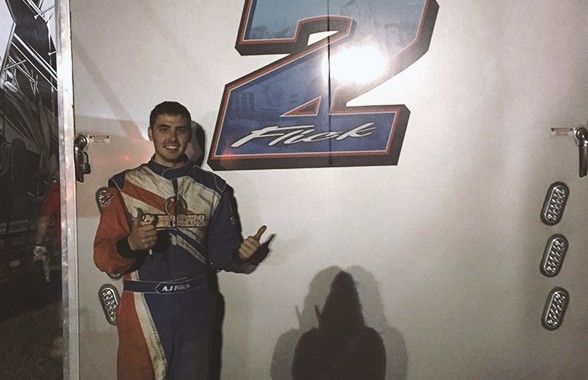 AJ ends his weekend 21st in a race with over 50 drivers.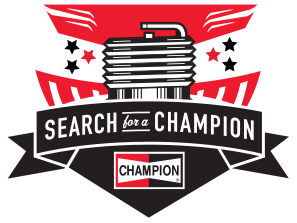 CONGRATULATIONS TO THE 2017 SEARCH FOR A CHAMPION GRAND PRIZE WINNERS
Champion would like to congratulate our 2017 Search for A Champion Grand Prize Winners: On the Track Grand Prize Winner Blake Brown and Off the Track Grand Prize Winner Derek Fetter.