My name is Jesse Iwuji and I'm a stock car racer for #TeamChampion. I got into motorsports right after graduating from the US Naval Academy. I began drag racing a Dodge Challenger SRT8 and from there I decided to build it up with more horsepower. After three years, it was a monster pushing 200.9mph at the Mojave Mile event in October 2013, where I became the 4th person ever to go over 200mph in a 3rd generation HEMI. Around that same time I bought a Corvette Z06 which I began taking to open track days to master my turning. This is what piqued my interest to begin a professional driving career.
My ride, #36
The #SearchForAChampion contest really helped bring my fans and supporters together for one common goal: voting for me every day to try and win the Grand Prize. They were definitely a part of my journey and had a voice in helping me succeed. Finishing Runner-Up helped my season tremendously during a time when sponsorship was tough and helped extend my season so that I could make it the whole year!
Race prep
In October 2017, we raced at the All-American Speedway in our 13th NASCAR K&N Pro Series West race in a field of 23 cars on a small 1/3 mile banked oval. We had a tough time getting the car around the track but we eventually figured it out. We qualified 20th, started 20th, moved up to 17th after first few laps, but just when things started to look positive it went downhill and we fell back to 22nd. We managed to keep it clean and finish 19th. We can be better than that and will progress for next race.
Flying down the All-American Speedway
Right after the race I immediately drove six hours back south, got home at 4AM and headed to base for my Navy Physical Readiness Test at 7:30AM and a whole day of Navy work. I passed with 100 sit ups in 2 min, 111 push ups in 2 min, and a 10 min 1.5 mile. Navy work & NASCAR all in one weekend can be a bit tiring but it's all worth it.
Looking forward, I hope to finish off the season with zero wrecks, finish inside the Top 15 for overall points, win the NASCAR Most Popular Driver Award, and hopefully make my NASCAR Camping World Truck Series debut at Phoenix International Raceway November 10.

Thumbs up for a solid race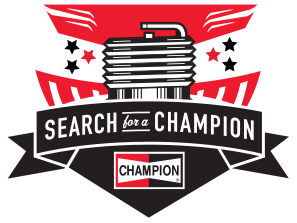 CONGRATULATIONS TO THE 2017 SEARCH FOR A CHAMPION GRAND PRIZE WINNERS
Champion would like to congratulate our 2017 Search for A Champion Grand Prize Winners: On the Track Grand Prize Winner Blake Brown and Off the Track Grand Prize Winner Derek Fetter.