Last month, Kris Whitfield took over Champion's social media accounts to give his fans a closer look at the Mile High Nationals. Check out his story below to see just how it went:
Q. Where did the race take place?

A: Bandimere Speedway - Morrison, Colorado. It's a family owned and family operated facility, located on the side of a Thunder Mountain at 5,800 feet of elevation.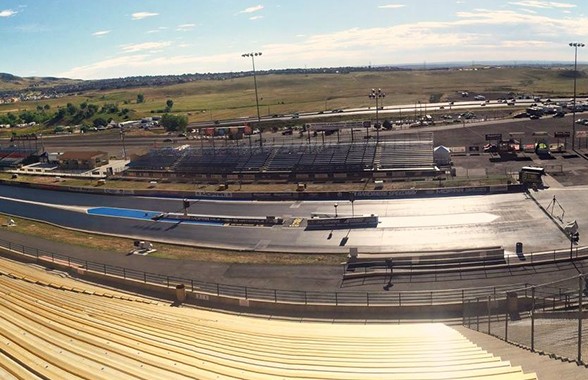 Kris shares a panorama of Bandimere Speedway on the morning of day one!
Q: What were some of the most notable activities from the weekend?
A: The weekend activities began Thursday night with the Mopar Block Party. This event shuts down Main Street in Golden, Colorado where food, a live band, and a car show highlight the evening. Many of the professional drivers and team owners are in attendance to spend time taking pictures and talking with fans. It's a great relaxing evening that gives everyone a chance to enjoy the company of friends, family, and fellow racers who have traveled a long way to be there for the event.
Friday was the start of time trails and sportsman classes took to the track in the morning. Both my roadster and dragster made good solid passes, which is a very important way to start the weekend, as tight track time limits the opportunity to make tuning changes if they are needed. I made a couple passes in each car, with solid weather and track data to back up the numbers on the time slip from one time trial to another. Saturday morning was scheduled to be the start of eliminations, so a solid practice day would set the tone for the weekend.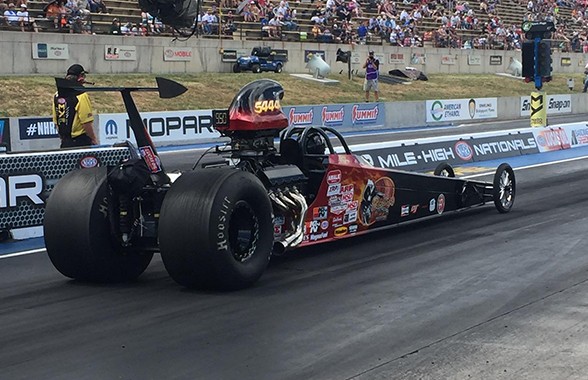 Kris prepares his dragster for the finals.
On Saturday, each sportsman class completed three elimination rounds to set fields of 8-10 cars for final eliminations on Sunday. I was struggling with my reaction times in the roadster, but was able to turn on win lights each pass. In the dragster, my reaction times were solid and the car was responding to all of the adjustments I was making. A combination of good finish line decision-making and good consistent times by each car sent me into Sunday still alive in both classes. As a sportsman racer, the first step to a successful weekend at a national event is to make it to Sunday to race in the big show, so to have two cars make it to the show was a huge confidence boost for me.
On Sunday, the sportsman classes fell into rotation between the professional classes which gave a steady pace to eliminations throughout the day. My first race of the day in the dragster was against a past world champion and last year's #8 finisher in national standings, so I knew I had my hands full. I was able to put together a lap that was .006 seconds from perfect, and that set the pace for the day. At three cars remaining in Super Gas, I was eliminated in the roadster by .0045 seconds after giving up the finish line. Although crushing, that loss only fueled my motivation to not give up in the dragster.

Kris snaps a shot of his dragster before the finals.
Q: How did you do at the end of the weekend?
A: As I started my racecar and rolled up to the starting line for the final round of eliminations, I made a point to take a deep breath and take in the moment. Win or lose, I knew I wouldn't want to forget what it felt like to be in that moment. Cameras rolling, 10,000 pairs of eyes on me and my competitor, and a dream potentially seconds away from becoming a reality, it was the picture perfect moment to capture in my mind. As I crossed the finish line and my win light came on I was filled with more emotion than I ever imagined. After driving back down the return road next to the racetrack and a cheering crowd, I couldn't contain myself. There were hugs, tears, laughs, a whole lot of relief, and an unforgettable time for my family and friends that were there. In every sense, it was a dream come true to become a Mile High Nationals champion and accomplish a goal that I've been working towards for my entire life. The trophy and the money that come along with it are great, but becoming a national champion with the support of amazing sponsors, family, and friends is what makes this so special to me.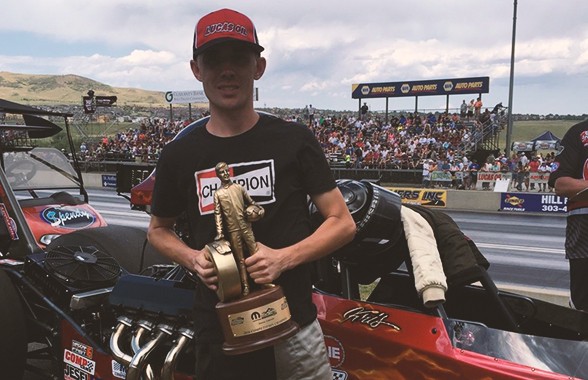 Kris Whitfield - Mile High Nationals 2016 Super Gas Champion!
Q: Anything else you'd like to share about the weekend?
A: To the readers of this article, my fellow competitors, racers in every type of motorsport, I just want to share with you one simple message that has kept me motivated through 18 years of racing and 26 years of my life. Success is not an accident - it is a very deliberate and intentional thing. Everyone deserves to watch their dreams come true, if they work for it.
This weekend, all of the late nights in the garage, the financial hardships, the literal blood, sweat, and tears that have been put into my racing operation by me and my family came full circle with winning the Mile High Nationals. It's the easiest thing in the world to stand in the winner's circle and hold up a trophy, but very few people get to see how hard it is to actually get there. I've been incredibly blessed with a family that raised me in one of the greatest sports in the world, a family who does everything they can to give me every opportunity to win, but none of it happened by accident.
I'd like to use this opportunity to tell my fellow #TeamChampion members, my competitors in racing, and anyone who needs some encouragement: make the decision right now to do what it takes to make your dreams come true. I can now say from experience that it is so worth it! I'm not the first to win this race, I won't be the last, but it's a milestone in my life that will define who I am in the future. I couldn't do it alone, but nobody was going to do it for me, so to everyone reading this: exhaust your resources, exhaust yourself, do what it takes to reach your goal, you won't regret it! Good luck!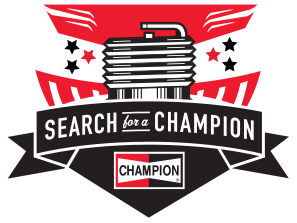 CONGRATULATIONS TO THE 2017 SEARCH FOR A CHAMPION GRAND PRIZE WINNERS
Champion would like to congratulate our 2017 Search for A Champion Grand Prize Winners: On the Track Grand Prize Winner Blake Brown and Off the Track Grand Prize Winner Derek Fetter.