Filters
Champion®motorcycle air & oil filters are precision-engineered to match or exceed OE standards. They are made from the highest quality materials and manufactured to exacting standards ensuring virtually zero defects. On the road (and off the road) they deliver maximum performance with unrivalled protection.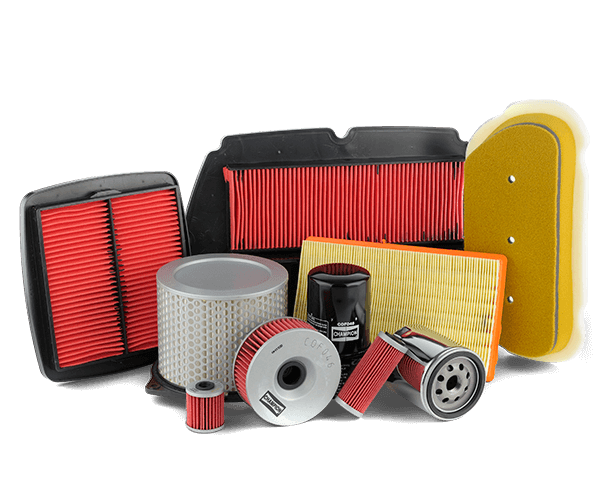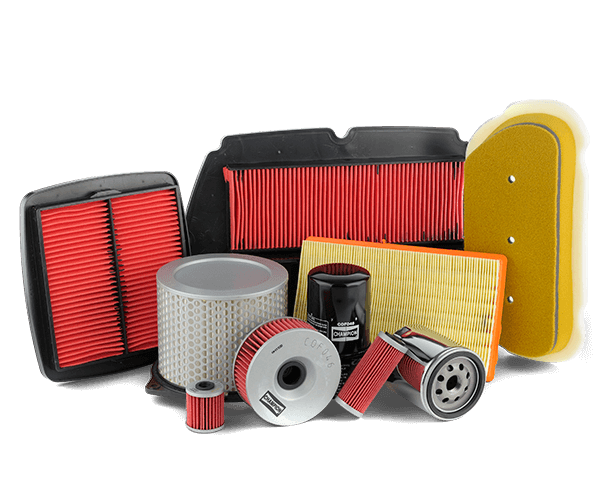 precision-engineered Filters for superior performance and maximum engine protection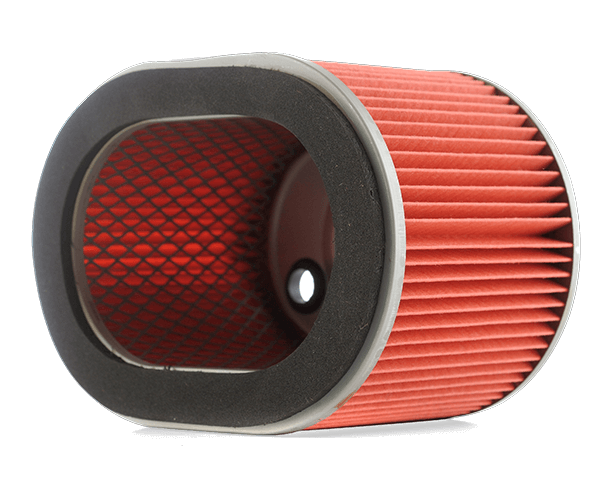 So why choose Champion®? The brand applies its expertise to motorcycles with a range of air and oil filters that either match or even exceed OE standards.
Here are the advantages to choosing Champion
®

air and oil filters for your motorcycle:
Extended Life: Independent tests (ISO 4548 - oil, and ISO5011 - air) have shown that Champion

®

filters, both air and oil, outperform the competition and guarantee quality filtration across our entire motorcycle filter program. Ride on!

Superior performance: Our filter paper is unique and impregnated with resin that removes even the most damaging contaminants from the oil. Pleated, cured and mechanically joined to guarantee 100% filtration.

quick-look benefits
Strength
Impregnated with sophisticated fibres ensuring rigidity, good tensile and burst strength
Performance
Layers of fibres integrated across each other give the paper depth and structure
Top-engineering
Filter paper traps particles on the surface and also locks them inside the media allowing far fewer particles through the engine
Use our Part Finder to see which filters fit your motorcycle!

Find parts for a previously entered vehicle
| Engine | MotNr | Fuel Type | Bore | Stroke | Cylinders | CC | kW/PS | Aspiration | Valves |
| --- | --- | --- | --- | --- | --- | --- | --- | --- | --- |
| {{ engine.make }} {{ engine.code }} | {{ engine.tecdoc_id || "-" }} | {{ engine.fuel_type || "-" }} | {{ formatPreciseValue(engine.bore) || "-" }}mm | {{ formatPreciseValue(engine.stroke) || "-" }}mm | {{ engine.cylinder_count || "-" }} | {{ maxAndMin(engine.cc_tech_range) || "-" }} | {{ maxAndMin(engine.kw_range) || "-" }} / {{ maxAndMin(engine.hp_range) || "-" }} | {{ engine.aspiration_type || "-" }} | {{ engine.valve_count || "-" }} |
Part Finder

Find parts for a previously entered vehicle

| Engine | MotNr | Fuel Type | Bore | Stroke | Cylinders | CC | kW/PS | Aspiration | Valves |
| --- | --- | --- | --- | --- | --- | --- | --- | --- | --- |
| {{ engine.make }} {{ engine.code }} | {{ engine.tecdoc_id || "-" }} | {{ engine.fuel_type || "-" }} | {{ formatPreciseValue(engine.bore) || "-" }}mm | {{ formatPreciseValue(engine.stroke) || "-" }}mm | {{ engine.cylinder_count || "-" }} | {{ maxAndMin(engine.cc_tech_range) || "-" }} | {{ maxAndMin(engine.kw_range) || "-" }} / {{ maxAndMin(engine.hp_range) || "-" }} | {{ engine.aspiration_type || "-" }} | {{ engine.valve_count || "-" }} |

Your Vehicle

Your Engine

| Engine | MotNr | Fuel Type | Bore | Stroke | Cylinders | CC | kW/PS | Aspiration | Valves |
| --- | --- | --- | --- | --- | --- | --- | --- | --- | --- |
| {{ engine.make }} {{ engine.code }} | {{ engine.tecdoc_id || "-" }} | {{ engine.fuel_type || "-" }} | {{ formatPreciseValue(engine.bore) || "-" }}mm | {{ formatPreciseValue(engine.stroke) || "-" }}mm | {{ engine.cylinder_count || "-" }} | {{ maxAndMin(engine.cc_tech_range) || "-" }} | {{ maxAndMin(engine.kw_range) || "-" }} / {{ maxAndMin(engine.hp_range) || "-" }} | {{ engine.aspiration_type || "-" }} | {{ engine.valve_count || "-" }} |

Your Part