BRAKE SHOE KITS

Make life simple with easy-to-use pre-assembled brake shoe replacement kits.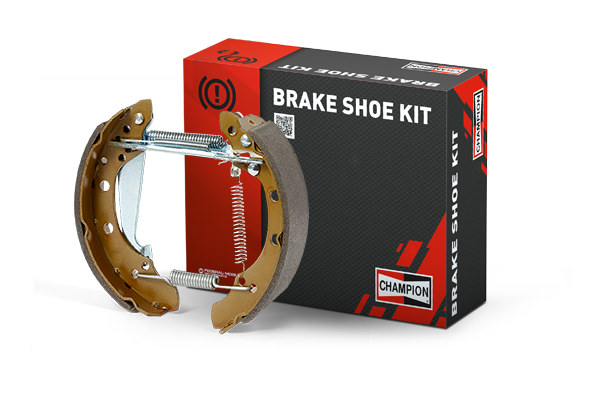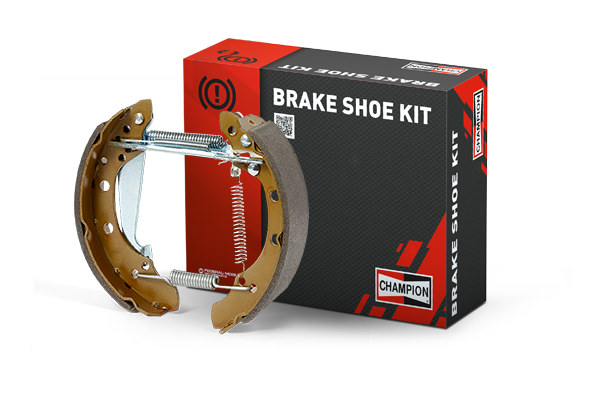 STOPPING POWER - ALL WRAPPED UP

Champion brake shoe kits are the easy answer to replacing drum brakes on a vast range of cars. We bring you optimized braking performance and perfect match with Champion brake pads.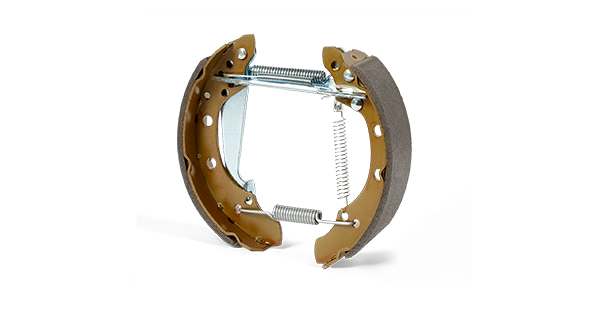 CONVENIENT TO FIT
Champion brake shoe kits are designed with you in mind. You'll find them easy to use thanks to:
the wheel cylinder being included
pre-assembled to save you time


WHAT DO BRAKE SHOES DO?
Drum brakes solution is mostly fitted on the rear axle of the vehicles. When the driver hits the brake pedal, the two curved brake shoes are forced outwards against the inner lining of the brake drum to create vast amounts of friction that stops the vehicle.
EXCELLENT COVERAGE
Choose from over 110 Champion brake shoe kits covering 85% of cars in Europe.
quick-look benefits
EASY
Fitting is fast and straightforward
COVERAGE
Covers most vehicles on the market
SAFE
Perfect braking balance with front axle
CONVENIENT
Pre-assembled and wheel cylinder included
Use our Part Finder to see which shoe kits fit your car!

Find parts for a previously entered vehicle
| Engine | MotNr | Fuel Type | Bore | Stroke | Cylinders | CC | kW/PS | Aspiration | Valves |
| --- | --- | --- | --- | --- | --- | --- | --- | --- | --- |
| {{ engine.make }} {{ engine.code }} | {{ engine.tecdoc_id || "-" }} | {{ engine.fuel_type || "-" }} | {{ formatPreciseValue(engine.bore) || "-" }}mm | {{ formatPreciseValue(engine.stroke) || "-" }}mm | {{ engine.cylinder_count || "-" }} | {{ maxAndMin(engine.cc_tech_range) || "-" }} | {{ maxAndMin(engine.kw_range) || "-" }} / {{ maxAndMin(engine.hp_range) || "-" }} | {{ engine.aspiration_type || "-" }} | {{ engine.valve_count || "-" }} |
Part Finder

Find parts for a previously entered vehicle

| Engine | MotNr | Fuel Type | Bore | Stroke | Cylinders | CC | kW/PS | Aspiration | Valves |
| --- | --- | --- | --- | --- | --- | --- | --- | --- | --- |
| {{ engine.make }} {{ engine.code }} | {{ engine.tecdoc_id || "-" }} | {{ engine.fuel_type || "-" }} | {{ formatPreciseValue(engine.bore) || "-" }}mm | {{ formatPreciseValue(engine.stroke) || "-" }}mm | {{ engine.cylinder_count || "-" }} | {{ maxAndMin(engine.cc_tech_range) || "-" }} | {{ maxAndMin(engine.kw_range) || "-" }} / {{ maxAndMin(engine.hp_range) || "-" }} | {{ engine.aspiration_type || "-" }} | {{ engine.valve_count || "-" }} |

Your Vehicle

Your Engine

| Engine | MotNr | Fuel Type | Bore | Stroke | Cylinders | CC | kW/PS | Aspiration | Valves |
| --- | --- | --- | --- | --- | --- | --- | --- | --- | --- |
| {{ engine.make }} {{ engine.code }} | {{ engine.tecdoc_id || "-" }} | {{ engine.fuel_type || "-" }} | {{ formatPreciseValue(engine.bore) || "-" }}mm | {{ formatPreciseValue(engine.stroke) || "-" }}mm | {{ engine.cylinder_count || "-" }} | {{ maxAndMin(engine.cc_tech_range) || "-" }} | {{ maxAndMin(engine.kw_range) || "-" }} / {{ maxAndMin(engine.hp_range) || "-" }} | {{ engine.aspiration_type || "-" }} | {{ engine.valve_count || "-" }} |

Your Part