Air Filters
A clogged air filter will impact your engine's performance, potentially the environment too and very likely damage your engine. Champion®provides the perfect OE-matching quality replacement parts to stay away from potentially nasty issues.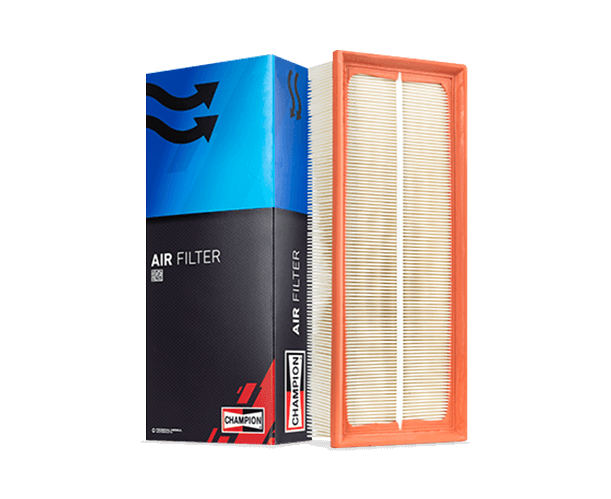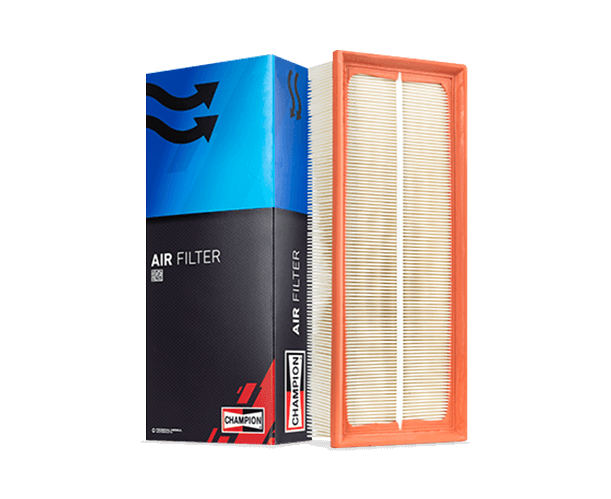 ENGINE and PERFORMANCE PROTECTED
WITH OUR TOP QUALITY AIR FILTERS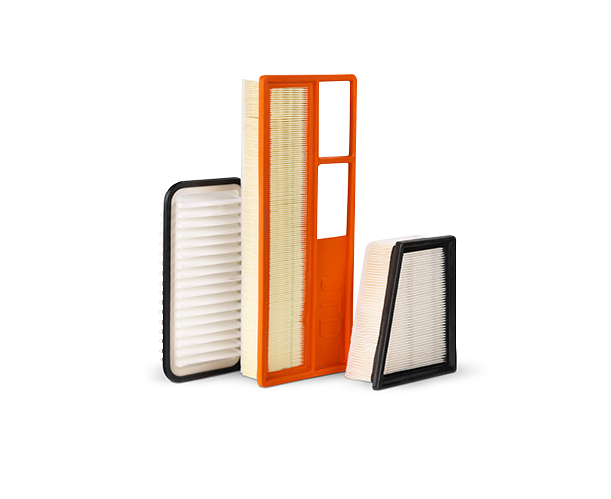 Change your air filter to a Champion® filter: our range offers filter solutions for over 92% of the EU car parc, so Champion® will most likely have the right filter for your car too.

Changing your filter will help you keep your engine safe, clean and performant:
Maintain Maximum Power: A new filter will ensure that the air flowing into the engine is clean. This means that the pure mixture of fuel and air guarantees maximum power.

Fully Combust Exhaust Smoke: Protect the airflow thanks to a new filter and avoid excessive amounts of diesel being injected. The best way to avoid black exhaust smoke, the result of incomplete fuel combustion.
Protect Your Engine: Prevent unfiltered particles entering the engine and thereby protect your engine from potential breakdown or damage. A new filter = a safe and protected engine.
Keep Consumption Low: Limit choke effects and particle detachments by fitting a new filter. Keep the pressure of your engine at the right level; the engine will keep running clean and your sensors will get the right data.
quick-look benefits
Oe-standards
Designed to meet the high standards of OE car manufacturers.
Thorough protection
Champion® air filters remove up to 98% of all contaminants that could cause damage to the engine's cylinders and fuel injection.
Complete range
The Champion® range includes all types of filters: panel, round or cylinder-shaped filters.
Use our Part Finder to see which air filter fits your car!

Find parts for a previously entered vehicle
| Engine | MotNr | Fuel Type | Bore | Stroke | Cylinders | CC | kW/PS | Aspiration | Valves |
| --- | --- | --- | --- | --- | --- | --- | --- | --- | --- |
| {{ engine.make }} {{ engine.code }} | {{ engine.tecdoc_id || "-" }} | {{ engine.fuel_type || "-" }} | {{ formatPreciseValue(engine.bore) || "-" }}mm | {{ formatPreciseValue(engine.stroke) || "-" }}mm | {{ engine.cylinder_count || "-" }} | {{ maxAndMin(engine.cc_tech_range) || "-" }} | {{ maxAndMin(engine.kw_range) || "-" }} / {{ maxAndMin(engine.hp_range) || "-" }} | {{ engine.aspiration_type || "-" }} | {{ engine.valve_count || "-" }} |
Part Finder

Find parts for a previously entered vehicle

| Engine | MotNr | Fuel Type | Bore | Stroke | Cylinders | CC | kW/PS | Aspiration | Valves |
| --- | --- | --- | --- | --- | --- | --- | --- | --- | --- |
| {{ engine.make }} {{ engine.code }} | {{ engine.tecdoc_id || "-" }} | {{ engine.fuel_type || "-" }} | {{ formatPreciseValue(engine.bore) || "-" }}mm | {{ formatPreciseValue(engine.stroke) || "-" }}mm | {{ engine.cylinder_count || "-" }} | {{ maxAndMin(engine.cc_tech_range) || "-" }} | {{ maxAndMin(engine.kw_range) || "-" }} / {{ maxAndMin(engine.hp_range) || "-" }} | {{ engine.aspiration_type || "-" }} | {{ engine.valve_count || "-" }} |

Your Vehicle

Your Engine

| Engine | MotNr | Fuel Type | Bore | Stroke | Cylinders | CC | kW/PS | Aspiration | Valves |
| --- | --- | --- | --- | --- | --- | --- | --- | --- | --- |
| {{ engine.make }} {{ engine.code }} | {{ engine.tecdoc_id || "-" }} | {{ engine.fuel_type || "-" }} | {{ formatPreciseValue(engine.bore) || "-" }}mm | {{ formatPreciseValue(engine.stroke) || "-" }}mm | {{ engine.cylinder_count || "-" }} | {{ maxAndMin(engine.cc_tech_range) || "-" }} | {{ maxAndMin(engine.kw_range) || "-" }} / {{ maxAndMin(engine.hp_range) || "-" }} | {{ engine.aspiration_type || "-" }} | {{ engine.valve_count || "-" }} |

Your Part