Earlier this month, #TeamChampion's Carl Rydquist took over the Champion social channels to give our audience an up close and personal look at his weekend racing in the Pirelli World Challenge 2016 season opener. Check out the highlights from the weekend below!

Q: Where did the race take place?

A: Pirelli World Challenge 2016 season opener.
March 3-6 at Circuit of the Americas, Austin, TX.
Q: What were some of the most notable activities from the weekend?

A: Meeting with the Texas fans at the packed autograph session, signing hats and hero cards and taking pictures with the fans was a really fun time. There is so much energy going on and so many kids where you really feel that you can offer them a special memory by engaging them in fun conversation.
The rolling start in race 1 was a good one, where I grabbed two positions already in the first turn, the car was superb on the brakes. It was a very special moment when I got up to 3rd place, my focus was on the race but it flickered through my mind that I was already heading for a podium in the first World Challenge race, crazy, and that's when you get a little nervous and start getting more concerned about the car because all of a sudden you have something to lose, in a sense. However those thoughts were quickly dismissed as I felt there was a chance to win. The second half of the race was just super intense as I was trying to catch the two cars ahead, fell back a little when I got blocked by a backmarker during lapping and then it was all about closing the gap to the front again. Ultimately I finished only two seconds behind the race winner. It was so close and it could have gone any direction.

Finding out on Saturday morning just ahead of the second race that I would start from pole position since I had the fastest lap of all drivers in the first race was exciting! We found out late due to the live timing from Friday's race which had an issue with the first lap so everyone's provisional best lap was all over the place on the score board. By Saturday morning, the officials had sorted it out, which means I didn't actually know until I was lining up the car for race 2 that I was on pole and had Friday's best lap, that was pretty special! Also, the fact that I was able to take the standing start and retain the lead onto the first lap, without having had a single chance to try a standing start with this car and the Pirelli tires was something I was proud of. I guess that me having done more than 1,000 standing starts during the last two seasons of professional drifting helped cope with the situation to get the right feel for the engine torque and tire grip on the fly.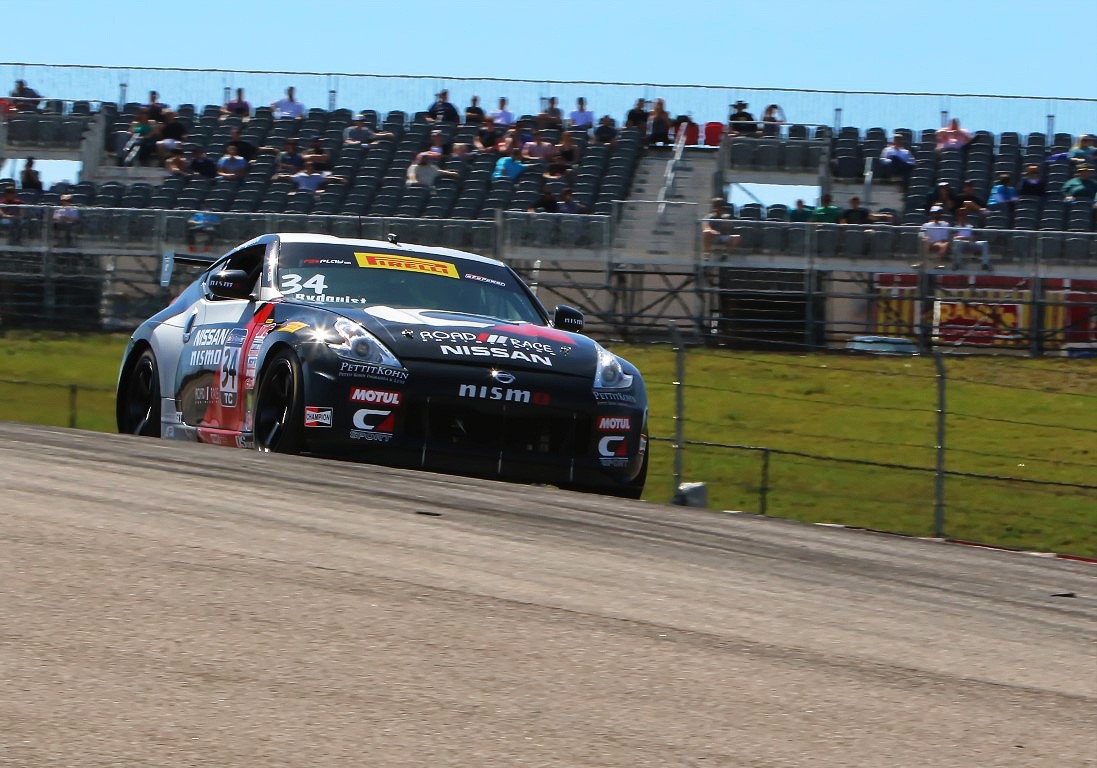 Q: How did you do at the end of the weekend?
A: Third place finish in race 1, from 7th start spot (relegated from 5th for cutting the track in qualifying by 1"). I also had the fastest lap of all drivers in the race that lead to pole position in race 2.  Race 2 retired from 3rd place due to a power steering leak.
Q: Anything else you'd like to share about your weekend?

A: It was so rewarding to get a chance to race at this level in a competitive car, to really get to a major league racing series and deliver at the level I always believed I could do. Racing is so tough in that it's not only about racing, but also about getting all the components together with sponsors and a team to get the actual opportunity to race, even more so to race competitively and fight to become a winner and a champion.
To be running up in the top five was maybe not so unexpected because I have met many competitive drivers in a similar situation like mine, they have the skillset, mentality and speed to be super competitive, but with budget only allowing to race in series' with fewer eyes watching and maybe a little older cars. Now taking all that into account and coming up to the highest level with all the focus, TV package etc, it felt like a huge deal to be all the way on the podium and run the fastest lap on a track I've only seen on TV before. That's all about raw racing and using a combination of all experiences from my past to put laps like those together. To get the chance to show and see speed materialize that I always believed in my heart that I had, is such a key component for a true racer, what a boost!

Check out a hyper lapse of the race weekend: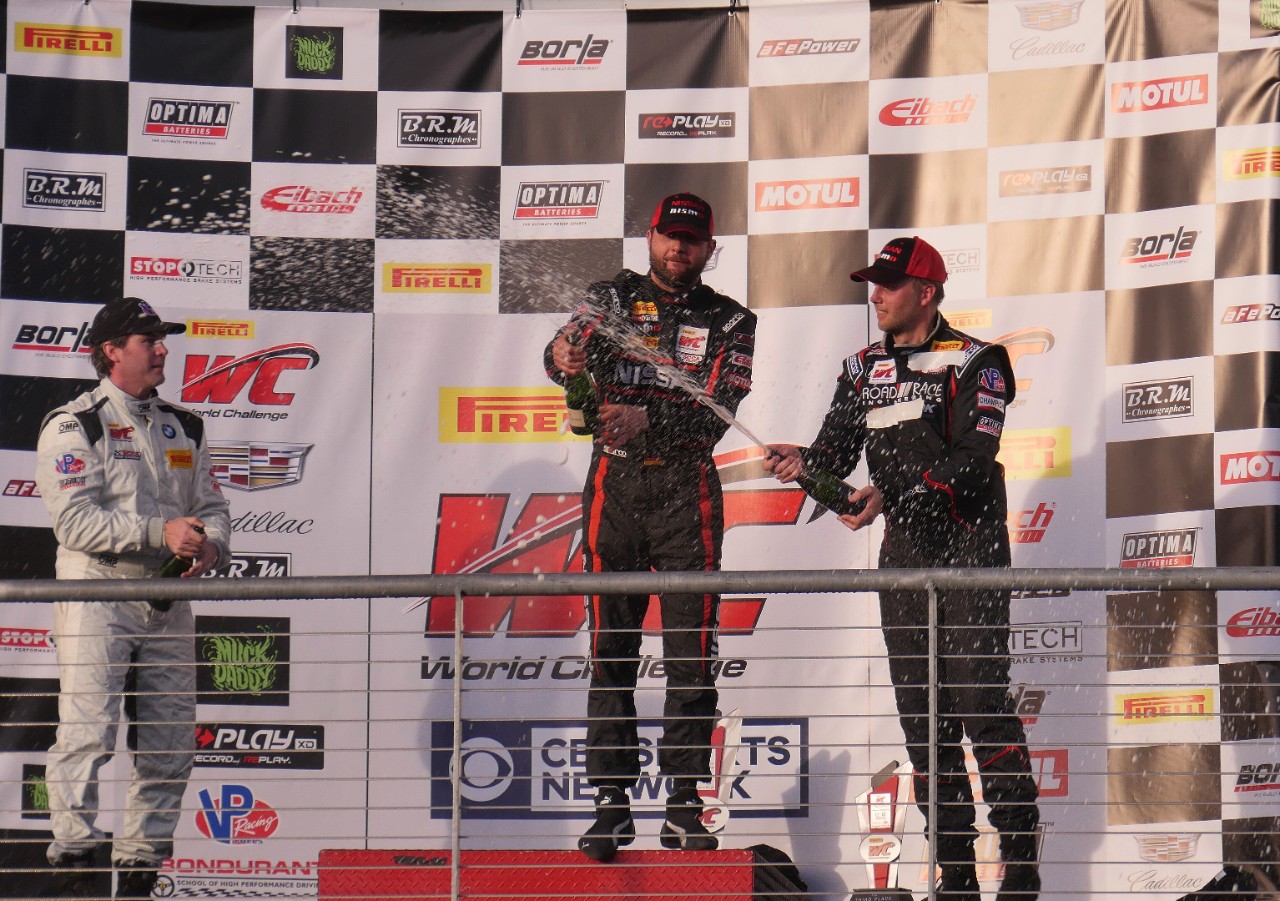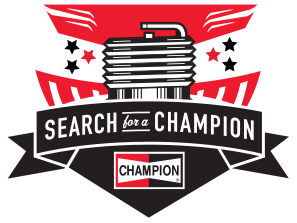 FELICITACIONES A LOS GANADORES DEL GRAN PREMIO SEARCH FOR A CHAMPION 2017 
Champion desea felicitar a nuestros ganadores del Gran premio Search for A Champion 2017: El ganador del Gran premio On the Track es Blake Brown y el del Gran premio Off the Track es Derek Fetter.