Rainy Day flat blades

A compact and universal range for a no-nonsense approach to windscreen wiping products.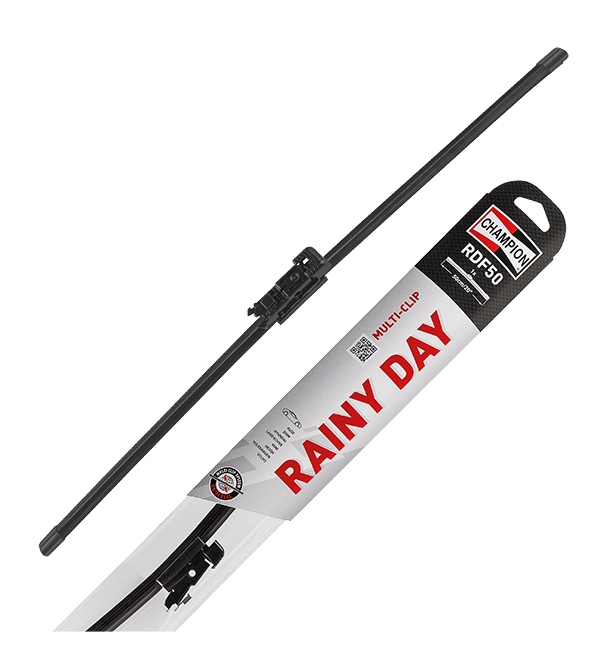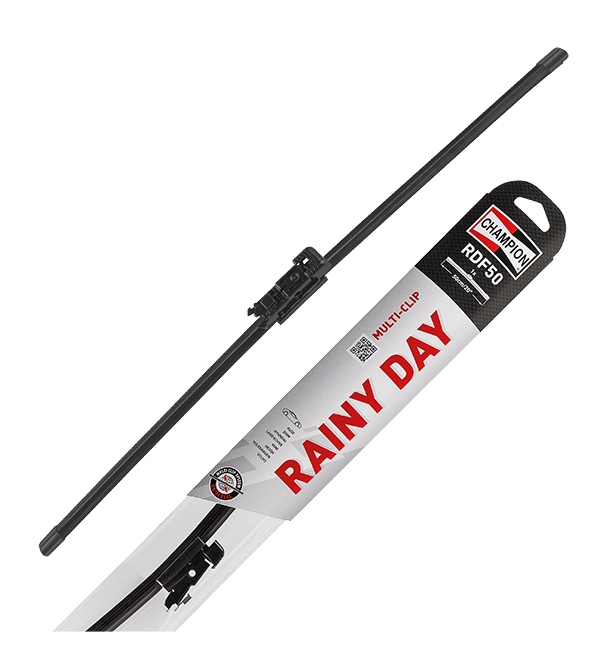 Get through the rain efficiently with champion's Rainy Day Flat Blades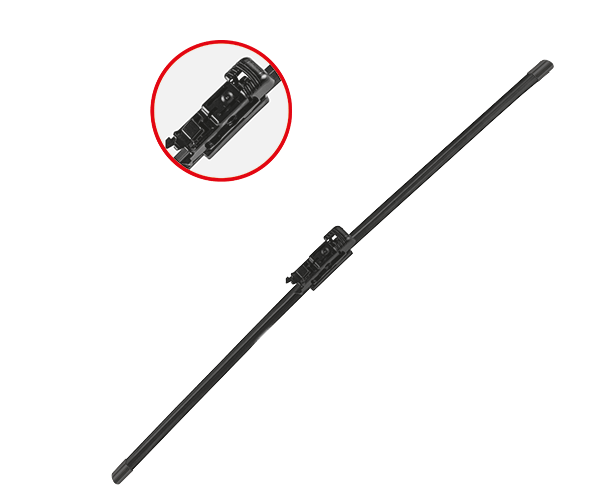 With its new and improved slimmer design, the Flat Blade already offers better visibility simply by not obstructing the windscreen view. The range of flat blade products, though compact in its number of references, still covers a wide range of car make requirements with the adaptable connectors - supplied complete with direct fit & retro fit clips.
You won't really have to read our 7 reasons to believe Champion reinvented the wiper, just take a look at every other wiper out there, and you'll see that the difference in design is quite remarkable.

7 reasons you'll love the Rainy Day Flat Blades
MULTI CLIP & CLASSIC CLIP for BETTER CONNECTIVITY
Get maximum application coverage: even if you still think standard for your car, you can fit a Rainy Day flat blade. The Multi Clip adaptor system now includes a Classic Clip for cars with a hook arm connection.



NEW TECHNOLOGY for MINIMAL WINDLIFT
This flat blade keeps wind lift to a minimum



UNIQUE design made MINIMALISTIC
Radically redesigned wiper to be as unobtrusive as possible: get a better view of the road ahead.


MINIMAL AFTER SPRAY meaning a CLEANER WINDSHIELD
Smooth and slim profile that keeps after spray to a minimum.


MINIMAL IMPACT ON THE ENVIRONMENT
Environmentally friendly - up to 60% lighter flat wiper blades than competitor wipers with no trade off in performance.


MINIMAL WINDNOISE
Nobody likes windnoise. That's why we reduced it.


READY FOR HARD CONDITIONS
A wiper that will resist cold winters and abuse.
Use our Part Finder to see which wipers fit your car!

Find parts for a previously entered vehicle
| Engine | MotNr | Fuel Type | Bore | Stroke | Cylinders | CC | kW/PS | Aspiration | Valves |
| --- | --- | --- | --- | --- | --- | --- | --- | --- | --- |
| {{ engine.make }} {{ engine.code }} | {{ engine.tecdoc_id || "-" }} | {{ engine.fuel_type || "-" }} | {{ formatPreciseValue(engine.bore) || "-" }}mm | {{ formatPreciseValue(engine.stroke) || "-" }}mm | {{ engine.cylinder_count || "-" }} | {{ maxAndMin(engine.cc_tech_range) || "-" }} | {{ maxAndMin(engine.kw_range) || "-" }} / {{ maxAndMin(engine.hp_range) || "-" }} | {{ engine.aspiration_type || "-" }} | {{ engine.valve_count || "-" }} |
Part Finder

Find parts for a previously entered vehicle

| Engine | MotNr | Fuel Type | Bore | Stroke | Cylinders | CC | kW/PS | Aspiration | Valves |
| --- | --- | --- | --- | --- | --- | --- | --- | --- | --- |
| {{ engine.make }} {{ engine.code }} | {{ engine.tecdoc_id || "-" }} | {{ engine.fuel_type || "-" }} | {{ formatPreciseValue(engine.bore) || "-" }}mm | {{ formatPreciseValue(engine.stroke) || "-" }}mm | {{ engine.cylinder_count || "-" }} | {{ maxAndMin(engine.cc_tech_range) || "-" }} | {{ maxAndMin(engine.kw_range) || "-" }} / {{ maxAndMin(engine.hp_range) || "-" }} | {{ engine.aspiration_type || "-" }} | {{ engine.valve_count || "-" }} |

Your Vehicle

Your Engine

| Engine | MotNr | Fuel Type | Bore | Stroke | Cylinders | CC | kW/PS | Aspiration | Valves |
| --- | --- | --- | --- | --- | --- | --- | --- | --- | --- |
| {{ engine.make }} {{ engine.code }} | {{ engine.tecdoc_id || "-" }} | {{ engine.fuel_type || "-" }} | {{ formatPreciseValue(engine.bore) || "-" }}mm | {{ formatPreciseValue(engine.stroke) || "-" }}mm | {{ engine.cylinder_count || "-" }} | {{ maxAndMin(engine.cc_tech_range) || "-" }} | {{ maxAndMin(engine.kw_range) || "-" }} / {{ maxAndMin(engine.hp_range) || "-" }} | {{ engine.aspiration_type || "-" }} | {{ engine.valve_count || "-" }} |

Your Part