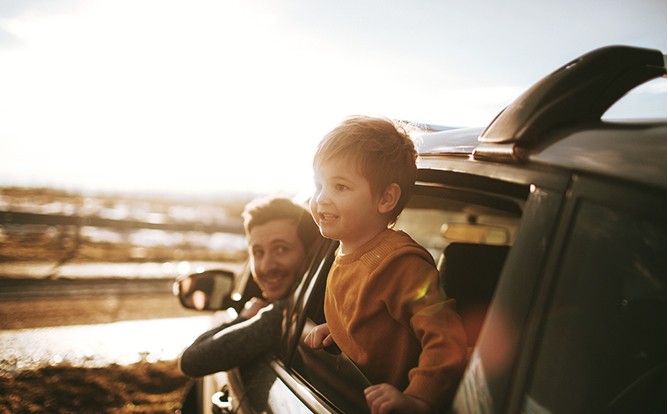 From concerts and beach outings to vacations and cross-country road trips, you have a planned a summer full of fun - with your car playing a key role. Nothing stops a road trip faster than a dead car battery.
Don't let anything get in the way of your plans. Take care of your car's battery and it will be ready to go every time you put the key in the ignition. Discover what you can do to ensure that your battery is charged up all summer long.
The heat is on
When you think of battery problems, you probably think about a dead car battery on a cold winter's morning. However, summer's heat can be more damaging to your car's battery than the snow and cold of winter. Summer's sizzling temperatures can rob your battery of its starting power and cut its life short.
What you can do
Don't wait for the heat of summer to take a toll on your car's battery. There are plenty of things you can do to keep your battery in top working order.

Keep it clean
Keep dirt and debris from the top of the battery. Grease and dirt buildup can drain your battery's power. Routinely examine the battery for dirt and immediately remove any buildup.
Watch for corrosion
The high temperatures of summer means increased heat in your vehicle's engine. This increased heat can cause corrosion inside your battery which can result in inhibited current flow. Inspect your battery on a regular basis for signs of corrosion. Clean any corrosion with a copper brush or a scouring pad.

Check the water level
In a lead-acid battery, the summer heat can cause the water to evaporate from the electrolyte. Check the water level in each cell and if low, refill with distilled water.

Look for damage
Examine the battery for signs of leaks, cracks or bulges. If you notice any of these issues, it is time to replace your battery before it leaves you stranded.

Take it to a pro
Before summer heats up, have your mechanic check the battery and electrical system. They can spot issues before they become bigger problems.

Be proactive
If your battery is more than four years old, consider changing it. As your battery ages, the chances for failure increases with every passing year. To find out the age of your battery, look for four- or five-digit code. At the beginning of the code is a letter and number. The letter indicates the month – A is for January, B is for February and so on – while the number is for the year – for example, 9 is for 2009 and 1 is for 2011.

Charge it up
If you won't be using your vehicle for two weeks or more, consider removing it and putting it on a trickle charger. Doing this ensures that your battery will be charged up and ready to go.

Secure it
Make sure the battery is securely mounted in place and that the cables are on tight. If your battery isn't installed correctly, you'll see diminished performance.

Look at ratings
If you need to replace your battery, be sure to buy one that's rated as high as the battery that was in your vehicle.
Learn more about quality car batteries, find your car part, or find where to buy your auto part today.
The content contained in this article is for entertainment and informational purposes only and should not be used in lieu of seeking professional advice from a certified technician or mechanic. We encourage you to consult with a certified technician or mechanic if you have specific questions or concerns relating to any of the topics covered herein. Under no circumstances will we be liable for any loss or damage caused by your reliance on any content.