Cabin Filters
A quality cabin filter can keep out up to 98% of all dirt, dust and allergens. The cabin filter plays a crucial role in the health, comfort and security of the vehicle occupants.

Champion Cabin Filters
the solution to clean incoming air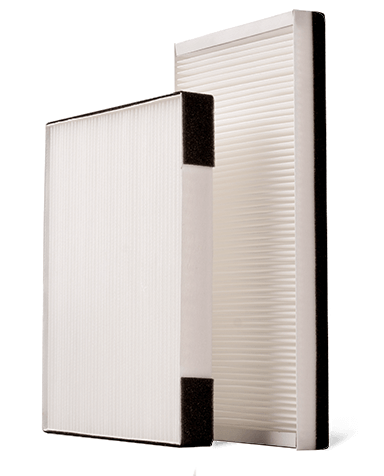 Champion®'s brand new range provides the right cabin filter for 92% of all current vehicles. All our filters are produced according to the most stringent OE standards, in order to offer optimum performance.
Changing your filter will help you keep your car environment safer and cleaner:

Health: Improve your air environment with a one-solution filter that captures all particles, pollen and bacteria.

Economy: Maximize the airflow in the A/C heating system, resulting in a better performance, reduced fuel consumption and no odd smell in the car, for longer.

Fuel Safety: An adequately functioning Cabin Filter will keep the resistance for the cabin blower to a mininum, easing its job and giving it a longer life-time.
Safety: An adequately functioning Cabin Filter will maximise the performance of the air-conditioning or heater, maintaining the windows defogging at an optimal pace, increasing safety for both driver and passengers.
Our cabin filters protect passengers against:
| | | |
| --- | --- | --- |
| | | |
| | | |
quick-look benefits
Coverage
Champion® wide range covers 92% of the European car parc
Performance
Optimum performance guaranteed with 98% of all pollutants stopped
Quick to install
Easy installation supported by an instruction video + pdf available + location specified on packaging
Use our Part Finder to see which cabin filter fits your car!

Find parts for a previously entered vehicle
| Engine | MotNr | Fuel Type | Bore | Stroke | Cylinders | CC | kW/PS | Aspiration | Valves |
| --- | --- | --- | --- | --- | --- | --- | --- | --- | --- |
| {{ engine.make }} {{ engine.code }} | {{ engine.tecdoc_id || "-" }} | {{ engine.fuel_type || "-" }} | {{ formatPreciseValue(engine.bore) || "-" }}mm | {{ formatPreciseValue(engine.stroke) || "-" }}mm | {{ engine.cylinder_count || "-" }} | {{ maxAndMin(engine.cc_tech_range) || "-" }} | {{ maxAndMin(engine.kw_range) || "-" }} / {{ maxAndMin(engine.hp_range) || "-" }} | {{ engine.aspiration_type || "-" }} | {{ engine.valve_count || "-" }} |
Part Finder

Find parts for a previously entered vehicle

| Engine | MotNr | Fuel Type | Bore | Stroke | Cylinders | CC | kW/PS | Aspiration | Valves |
| --- | --- | --- | --- | --- | --- | --- | --- | --- | --- |
| {{ engine.make }} {{ engine.code }} | {{ engine.tecdoc_id || "-" }} | {{ engine.fuel_type || "-" }} | {{ formatPreciseValue(engine.bore) || "-" }}mm | {{ formatPreciseValue(engine.stroke) || "-" }}mm | {{ engine.cylinder_count || "-" }} | {{ maxAndMin(engine.cc_tech_range) || "-" }} | {{ maxAndMin(engine.kw_range) || "-" }} / {{ maxAndMin(engine.hp_range) || "-" }} | {{ engine.aspiration_type || "-" }} | {{ engine.valve_count || "-" }} |

Your Vehicle

Your Engine

| Engine | MotNr | Fuel Type | Bore | Stroke | Cylinders | CC | kW/PS | Aspiration | Valves |
| --- | --- | --- | --- | --- | --- | --- | --- | --- | --- |
| {{ engine.make }} {{ engine.code }} | {{ engine.tecdoc_id || "-" }} | {{ engine.fuel_type || "-" }} | {{ formatPreciseValue(engine.bore) || "-" }}mm | {{ formatPreciseValue(engine.stroke) || "-" }}mm | {{ engine.cylinder_count || "-" }} | {{ maxAndMin(engine.cc_tech_range) || "-" }} | {{ maxAndMin(engine.kw_range) || "-" }} / {{ maxAndMin(engine.hp_range) || "-" }} | {{ engine.aspiration_type || "-" }} | {{ engine.valve_count || "-" }} |

Your Part