iridium
Champion®relies on its pioneering spirit of innovation and proven technologies to guarantee optimum performance and durability for a variety of engine specific demands.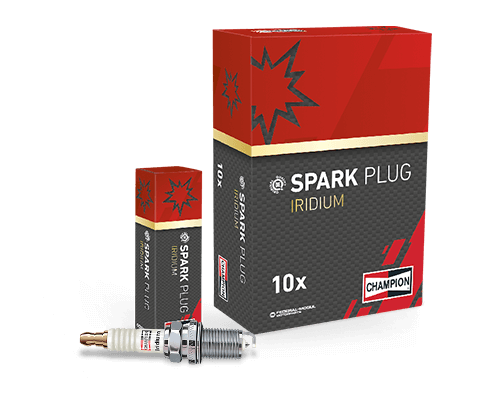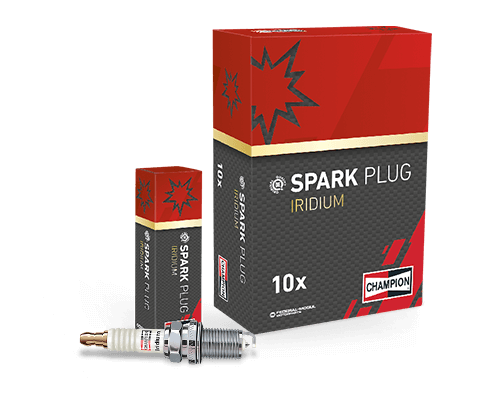 INNOVATIONS FOR A LONG & PERFORMANT LIFE WITH IRIDIUM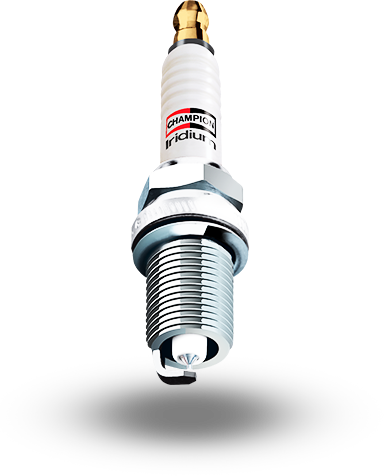 Champion®pioneered the use of iridium in aviation and industrial applications nearly 30 years ago. Now iridium, which has a stabilizing effect on ignition voltage and excellent wear characteristics, is quickly becoming the technology of choice for engine manufacturers worldwide.
Improved performance and service life
Iridium pin welded to the copper core centre electrode

Platinum pad welded to the copper core ground

Champion

®

Iridium center electrode and "laser-locked" platinum ground electrodes ensure maximum life

Champion

®

's fine-wire electrode and platinum v-trimmed ground electrode produce the sharpest spark focus

Further reduces erosion maintaining the gap & increases life
QUICK-LOOK BENEFITS
Performance
Maximum performance regardless of engine or ignition type
High-tech
Exclusive Heat-ActiveTM alloy quickly reaches operating temperatures and maintains stable operating temperatures under varying engine loads
Durability
Service life up to 75,000 miles / 120,000 km
Use our Part Finder to see which spark plug fits your car!

Find parts for a previously entered vehicle
| Engine | MotNr | Fuel Type | Bore | Stroke | Cylinders | CC | kW/PS | Aspiration | Valves |
| --- | --- | --- | --- | --- | --- | --- | --- | --- | --- |
| {{ engine.make }} {{ engine.code }} | {{ engine.tecdoc_id || "-" }} | {{ engine.fuel_type || "-" }} | {{ formatPreciseValue(engine.bore) || "-" }}mm | {{ formatPreciseValue(engine.stroke) || "-" }}mm | {{ engine.cylinder_count || "-" }} | {{ maxAndMin(engine.cc_tech_range) || "-" }} | {{ maxAndMin(engine.kw_range) || "-" }} / {{ maxAndMin(engine.hp_range) || "-" }} | {{ engine.aspiration_type || "-" }} | {{ engine.valve_count || "-" }} |
Part Finder

Find parts for a previously entered vehicle

| Engine | MotNr | Fuel Type | Bore | Stroke | Cylinders | CC | kW/PS | Aspiration | Valves |
| --- | --- | --- | --- | --- | --- | --- | --- | --- | --- |
| {{ engine.make }} {{ engine.code }} | {{ engine.tecdoc_id || "-" }} | {{ engine.fuel_type || "-" }} | {{ formatPreciseValue(engine.bore) || "-" }}mm | {{ formatPreciseValue(engine.stroke) || "-" }}mm | {{ engine.cylinder_count || "-" }} | {{ maxAndMin(engine.cc_tech_range) || "-" }} | {{ maxAndMin(engine.kw_range) || "-" }} / {{ maxAndMin(engine.hp_range) || "-" }} | {{ engine.aspiration_type || "-" }} | {{ engine.valve_count || "-" }} |

Your Vehicle

Your Engine

| Engine | MotNr | Fuel Type | Bore | Stroke | Cylinders | CC | kW/PS | Aspiration | Valves |
| --- | --- | --- | --- | --- | --- | --- | --- | --- | --- |
| {{ engine.make }} {{ engine.code }} | {{ engine.tecdoc_id || "-" }} | {{ engine.fuel_type || "-" }} | {{ formatPreciseValue(engine.bore) || "-" }}mm | {{ formatPreciseValue(engine.stroke) || "-" }}mm | {{ engine.cylinder_count || "-" }} | {{ maxAndMin(engine.cc_tech_range) || "-" }} | {{ maxAndMin(engine.kw_range) || "-" }} / {{ maxAndMin(engine.hp_range) || "-" }} | {{ engine.aspiration_type || "-" }} | {{ engine.valve_count || "-" }} |

Your Part