eon TITAN
Champion®has been a leader in ignition products technology since Champion®Spark Plugs began manufacture in 1908. Since then Champion®has remained at the forefront. It was only natural that the brand would finally unveil its latest unmatched technology with the eon TITAN product range: 18 references for over 90% of EU car makes.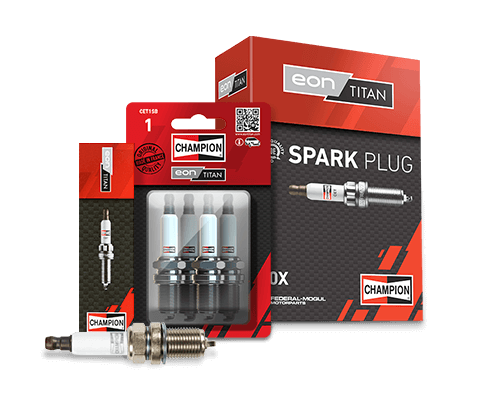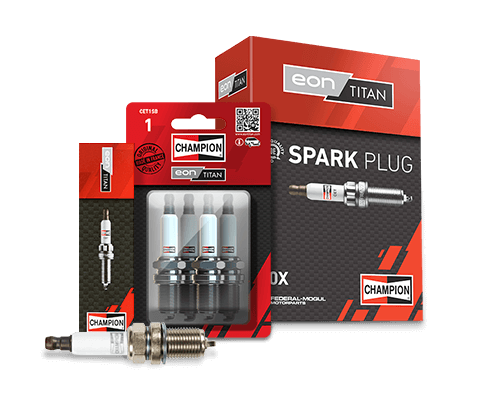 Champion
®

eon TITAN
The RIGHT Spark Plug FOR YOUR CAR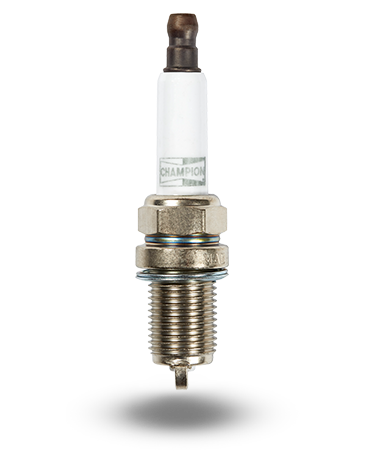 Champion®eon TITAN is the result of the most intensive spark plug research & development programme ever. It combines Champion®'s automotive and non-automotive knowledge and premium technology to create the ultimate short range spark plug. A range so performant that with its only 18 references, it still manages to cover over 90% of EU car makes. A technology for today's most advanced multi-valve, high efficiency engines.
The Ultimate Technology for Ultimate Performance in detail
Formula 1 technology for anti-flashover.
FISS suppressor for smoother balanced idling.
Thin walled copper core centre electrode for better heat dissipation.
Longer core nose/broader seat for wider heat range.
Wider gap for greatly improved performance.
Machined thermal contour centre electrode (CET1-9) for precious-metal performance on naturally aspirated engines.
Platinum fine-wire centre electrode (CET10P-18P) for maximum performance on turbo engines.
Titanium alloy poly-v ground electrode.
Improved ignitability, performance and durability by combining premium technology.
quick-look benefits
OE-matching quality
Produced according to the industry's highest requirements
Made in europe
Developed, tested and produced in our global OE Facility in France
Super high-tech
Including all proven technologies and industry-first innovations
Coverage
A product range that covers 90% of EU car makes with only 18 references
Use our Part Finder to see which spark plug fits your car!

Find parts for a previously entered vehicle
| Engine | MotNr | Fuel Type | Bore | Stroke | Cylinders | CC | kW/PS | Aspiration | Valves |
| --- | --- | --- | --- | --- | --- | --- | --- | --- | --- |
| {{ engine.make }} {{ engine.code }} | {{ engine.tecdoc_id || "-" }} | {{ engine.fuel_type || "-" }} | {{ formatPreciseValue(engine.bore) || "-" }}mm | {{ formatPreciseValue(engine.stroke) || "-" }}mm | {{ engine.cylinder_count || "-" }} | {{ maxAndMin(engine.cc_tech_range) || "-" }} | {{ maxAndMin(engine.kw_range) || "-" }} / {{ maxAndMin(engine.hp_range) || "-" }} | {{ engine.aspiration_type || "-" }} | {{ engine.valve_count || "-" }} |
Part Finder

Find parts for a previously entered vehicle

| Engine | MotNr | Fuel Type | Bore | Stroke | Cylinders | CC | kW/PS | Aspiration | Valves |
| --- | --- | --- | --- | --- | --- | --- | --- | --- | --- |
| {{ engine.make }} {{ engine.code }} | {{ engine.tecdoc_id || "-" }} | {{ engine.fuel_type || "-" }} | {{ formatPreciseValue(engine.bore) || "-" }}mm | {{ formatPreciseValue(engine.stroke) || "-" }}mm | {{ engine.cylinder_count || "-" }} | {{ maxAndMin(engine.cc_tech_range) || "-" }} | {{ maxAndMin(engine.kw_range) || "-" }} / {{ maxAndMin(engine.hp_range) || "-" }} | {{ engine.aspiration_type || "-" }} | {{ engine.valve_count || "-" }} |

Your Vehicle

Your Engine

| Engine | MotNr | Fuel Type | Bore | Stroke | Cylinders | CC | kW/PS | Aspiration | Valves |
| --- | --- | --- | --- | --- | --- | --- | --- | --- | --- |
| {{ engine.make }} {{ engine.code }} | {{ engine.tecdoc_id || "-" }} | {{ engine.fuel_type || "-" }} | {{ formatPreciseValue(engine.bore) || "-" }}mm | {{ formatPreciseValue(engine.stroke) || "-" }}mm | {{ engine.cylinder_count || "-" }} | {{ maxAndMin(engine.cc_tech_range) || "-" }} | {{ maxAndMin(engine.kw_range) || "-" }} / {{ maxAndMin(engine.hp_range) || "-" }} | {{ engine.aspiration_type || "-" }} | {{ engine.valve_count || "-" }} |

Your Part