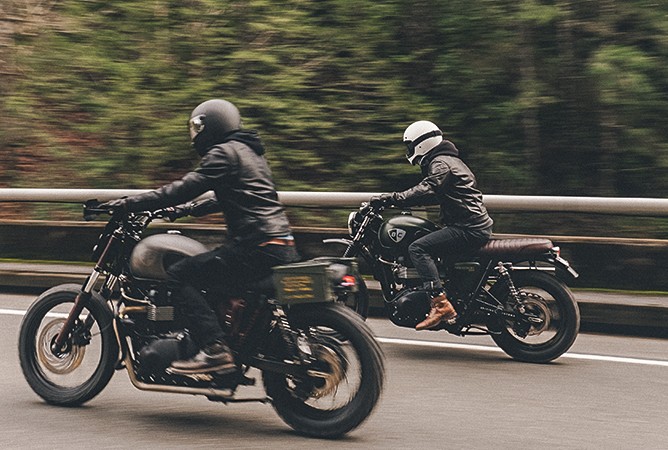 A little maintenance today will help ensure that your bike is ready to go.
The snow is melting, the temperature is starting to rise and you are itching to get back on two wheels. It's been a long winter for you and your motorcycle. Before you jump on your bike, take some time now to get your machine ready for all those rides you have planned. Download our spring motorcycle maintenance checklist to ensure that your bike is ready to go.

Brakes
Because you never know when you'll need to apply your brakes, this is the perfect time to take a close look at your bike's braking system. Start by checking the brake pads: if they show signs of excessive wear, replace them. Take a look at the brake lines, keeping an eye out for any cracks or leaks.
Finally, perform a test on both the front and rear brakes to make sure they are working properly. If you hear any squealing, scraping or growling noises, have your mechanic check it out before you take your bike out on the road.

Tires
Inspect your tires for damage such as cracks or dry rot. Check the tread – are both tires in good shape or do they need replacing? Worn tread can make your bike harder to handle, so don't overlook this important safety check.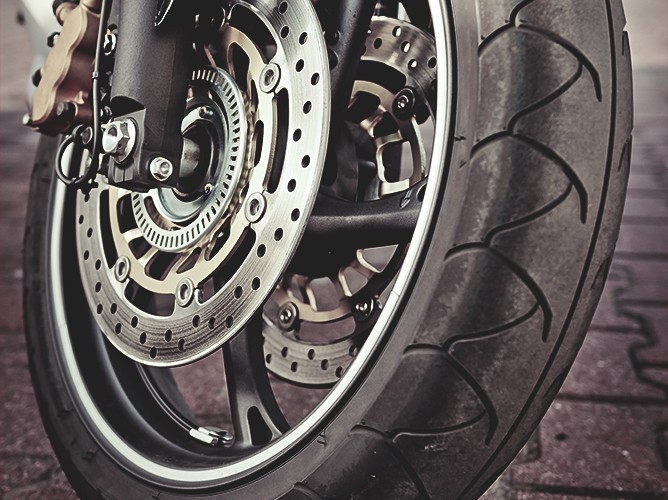 After sitting in storage all winter, your tires may have lost air pressure. Using an air pressure gauge, check the air pressure to ensure that both tires at the correct level. You can check your owner's manual for the manufacturer's recommended setting. Also be mindful of flat spots that might have developed from sitting for an extended period of time.


Battery
Your battery helps power your motorcycle – thoroughly examine it to ensure that it is ready to go each time you fire up the engine. Are the terminals clean and cables securely connected? Does everything appear to be in good working order?
If your bike's battery wasn't on a trickle charger over the winter, test your battery. Sitting in storage can quickly drain your battery; it is likely that it will need to be charged.

Fluids
If you didn't change your oil and oil filter at the end of last season, this is the ideal time to take care of this key maintenance step. Consult your owner's manual for the proper oil filter and oil to use.
Check and top off all the other fluids in your engine including brake fluid, coolant, transmission oil, hydraulic clutch fluid and fork oil. Look for any changes in consistency and color of the fluids. If you suspect that any of the fluids have degraded, you may need to perform a system-specific flush like a coolant flush or a flush of the brake system. Check your owner's manual for the recommended service schedule.

Lights
Make sure that you can see and others can see you by checking your lights. Make sure your headlight (high and low beams), taillights, brake light, turn signals and flashers are all in working order. Replace any bulbs that are burned out.

Spark plugs
Prevent problems down the road by checking your motorcycle's spark plugs. If any are dirty or show signs of damage, replace them before you are left stranded on the side of the road.

Belts & chains
Take a moment to inspect your drive chain or drive belt for cracks or signs of wear that could cause it to malfunction. Also check the tension to ensure that it's at manufacturer specs. Take care of any issues now before it ruins a day of riding.

Controls
Test all of your controls to make ensure that your bike is road ready. Check your steering, clutch, throttle and other key controls. This is the time to address any problems.

Gear
Finally, don't neglect your riding gear. Check your helmet for cracks or other signs of damage that could compromise it. If you see any issues, replace it immediately. Many manufacturers recommend getting a new helmet every five years regardless of whether you see any visible damage.
Replace gloves and boots that have become worn and invest in a new visor if yours is scratched. Also look at your emergency road kit – is it complete? Replace any items that may have been taken out.
Learn more about quality motorcycle spark plugs, find your part, or find where to buy your part today.
The content contained in this article is for informational purposes only and should not be used in lieu of seeking professional advice from a certified technician or mechanic. We encourage you to consult with a certified technician or mechanic if you have specific questions or concerns relating to any of the topics covered herein. Under no circumstances will we be liable for any loss or damage caused by your reliance on any content.