Winning 'Search for a Champion' in 2015 was certainly life changing, and by far my greatest accomplishment to date. Champion Spark Plugs and Federal-Mogul Motorparts' backing has enhanced my team's operation in ways that I didn't think would be possible for years to come. I am so thankful for the opportunity that they have given me, and I am excited to strengthen and build upon my partnership with one of the most popular brands in the automotive industry.
Looking back now, I realize that when I submitted my entry for 'Search for a Champion,' I had no idea what an impact it would have on my life. As the contest continued, I found that the support I was getting from fellow racers, crew members, race fans, friends, and family was more substantial than I ever anticipated. It became extremely clear just how many individuals believed in me as a driver, which motivated me even more to win the $50,000 grand prize sponsorship, and to be named "Champion's Champion!"
The entire process of 'Search for a Champion' was beneficial in more ways than one. In addition to being the recipient of the grand prize sponsorship, I also gained valuable skills in marketing and video editing. Furthermore, I improved my social networking skills considerably, expanding my fan base as a result. I have utilized these capacities countless times since the conclusion of the contest, which has only made me appreciate 'Search for a Champion' that much more.
During the 2015 race season, my team and I grabbed five event wins—including the annual National Dragster Challenge—and a number of runner up and semifinal finishes! Additionally, I recorded five perfect reaction times and countless #1 qualifying positions. It is safe to say that 2015 was Carly Jo Ellingson Racing's best season since advancing to the Pro ET and Super Pro classes of the NHRA! Along with the triumphs, this year also delivered its fair share of hardships, as we endured a number of minor mechanical and electronic failures. Due to Champion's support, though, we were repeatedly able to power our way back to the winner's circle!
'Search for a Champion' is an amazing opportunity for grassroots racers to take their operations to the next level, and to make a prominent name for themselves in the racing industry. I am honored to have won the contest, and to be representing Champion Spark Plugs and Federal-Mogul Motorparts as I make my way through the ranks of NHRA drag racing. My team and I have quite a journey ahead of us, and we are so excited to have Champion along for the ride!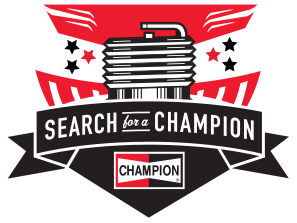 CONGRATULATIONS TO THE 2017 SEARCH FOR A CHAMPION GRAND PRIZE WINNERS
Champion would like to congratulate our 2017 Search for A Champion Grand Prize Winners: On the Track Grand Prize Winner Blake Brown and Off the Track Grand Prize Winner Derek Fetter.