My name is Treyten Lapecevich, racing has always been a passion of mine. For as long as I can remember I was taken to race tracks across Canada and the U.S. to watch my dad race. When I was four years old, I had my first opportunity to race in a quarter midget, and I've been doing it ever since.
This past weekend marked my first official start as a member of #TeamChampion, and it was a busy one. The Spring Velocity event at Sunset Speedway is the first big event of the year. This year was a little different because there was an APC late model race on day one and a Super Stock race on day two. It took some work but I succeeded in convincing my parents to take both cars so we could run two days.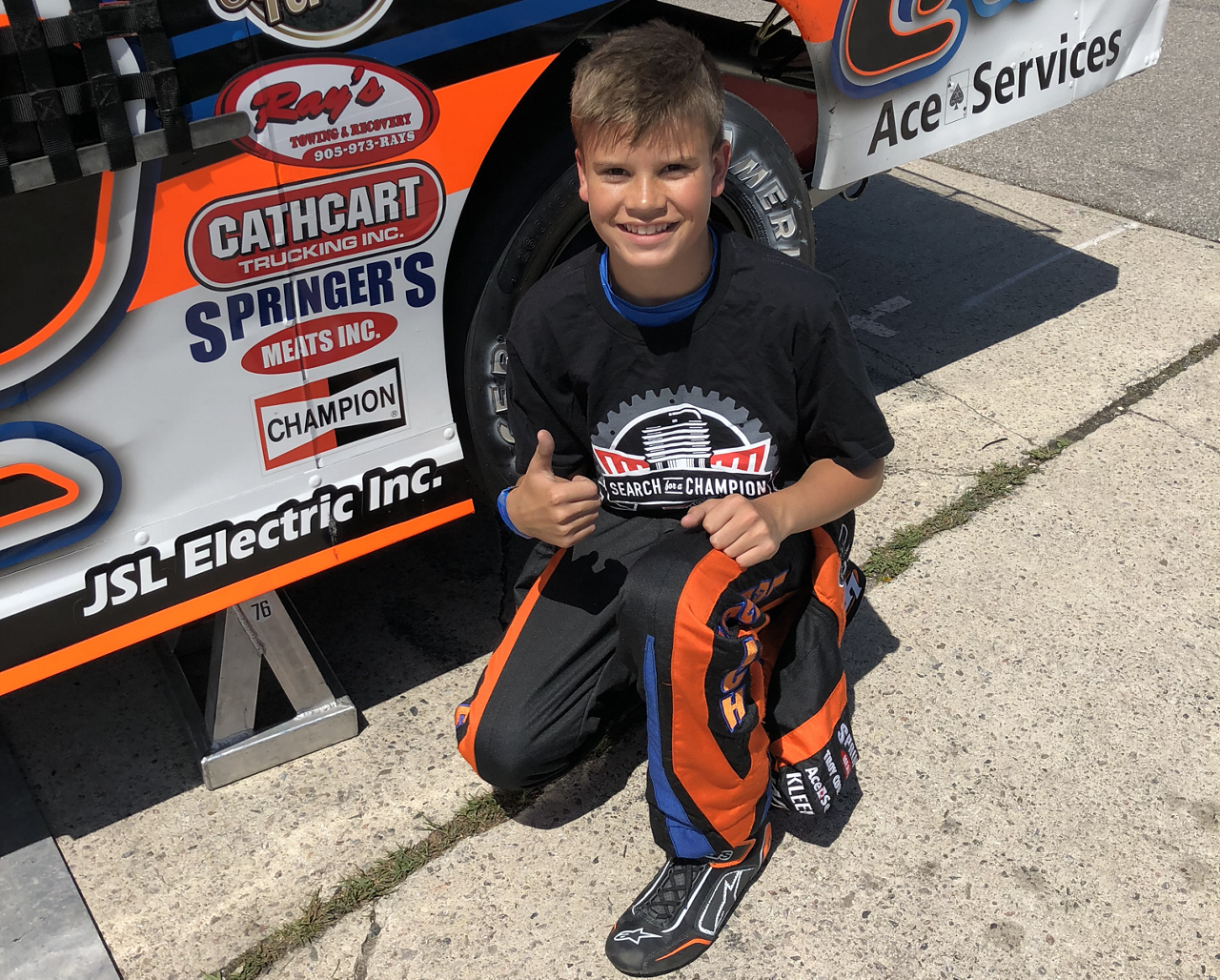 Good to go!
Since we had already tested twice at Sunset prior to the event, I was feeling very confident. There were three rounds of practice and by the end of the first round I found myself 16th of 28 entries. It was a little disappointing, but I knew we had more speed in the car. After a couple adjustments and some fresh tires, we hit the track again. I moved up to P2, just a few thousandths of a second behind 2017 champion Brandon Watson, but still easily quick enough to get in the fast group for batch qualifying.
Back at the pits we made a couple minor adjustments, filled the fuel, taped up, and got ready for pre-qualifying technical inspection. With 28 cars in the ground that day, only the top 18 would get in on speed. The remaining eight starting positions would be awarded through the last-chance race and provisionals. Once qualifying ended I was thrilled to have made my best qualifying effort in the APC Series to date–I got under the existing track record on my third hot lap but eventually ended up third.
When the sun sets and the temperature drops at Sunset Speedway, the track gets very tight and it makes it hard for the car to turn. Knowing that, I felt we were going to be in really good shape for the 100-lap feature. At the drop of the green we settled comfortably into third place and were able to put some distance between me and the car in fourth, yet still keep fairly close to the cars ahead.
At about the midway point in the race I was started to lose traction at corner exit…. the entry….and then through the middle. As the laps wound down we fell to 8th place at the finish. It wasn't terrible given the stacked field of cars, but I was really looking to stay up front. On the positive side, we showed great speed and I really think we have a good foundation to build on.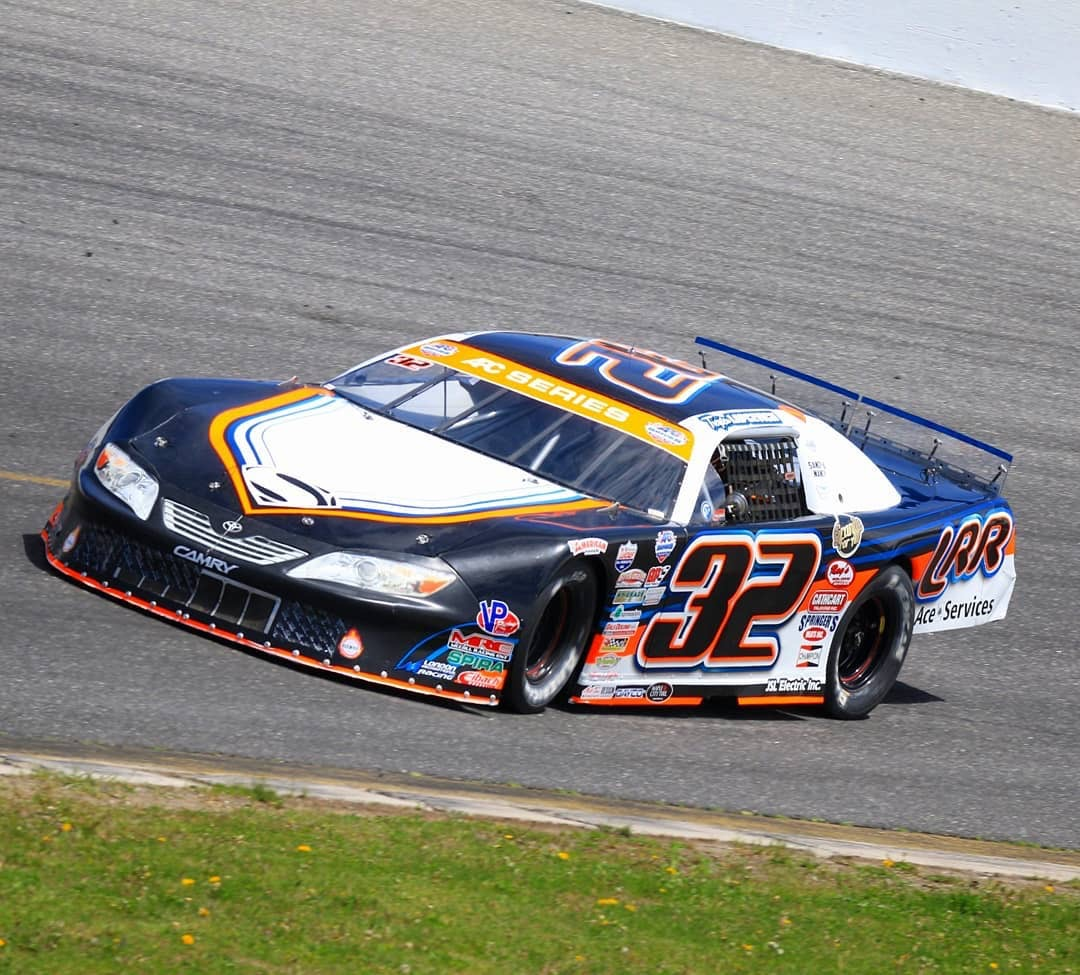 In the groove at Sunset Speedway!
The next morning, we unloaded the Super Stock to get ready for tech inspection and practice.  I've had a lot of success in this car in the past so I was excited to get back behind the wheel.
Practice went really well but with a limited tire selection and tire inventory controlled via tire tickets we were stuck with way more rear stagger than we've ever run before. The car was really fast for a short run but got to be a handful as the lap count increased. Lucky for me the heat races were both only ten laps and I won both. In the first one, I had a great battle with Canadian late model racing legend (and good friend) Tom Walters. I made a little mistake when we were side-by-side for the lead and sent Tom up the track a bit. I don't think he was very happy with me because he roughed me up a little after that and took back the lead, but I was able to get by again for the win. I saw him charging toward me while we were in post-race tech but as he neared his smile lit up and he congratulated me. I was very happy about that. You don't want to be on the bad side of Tom!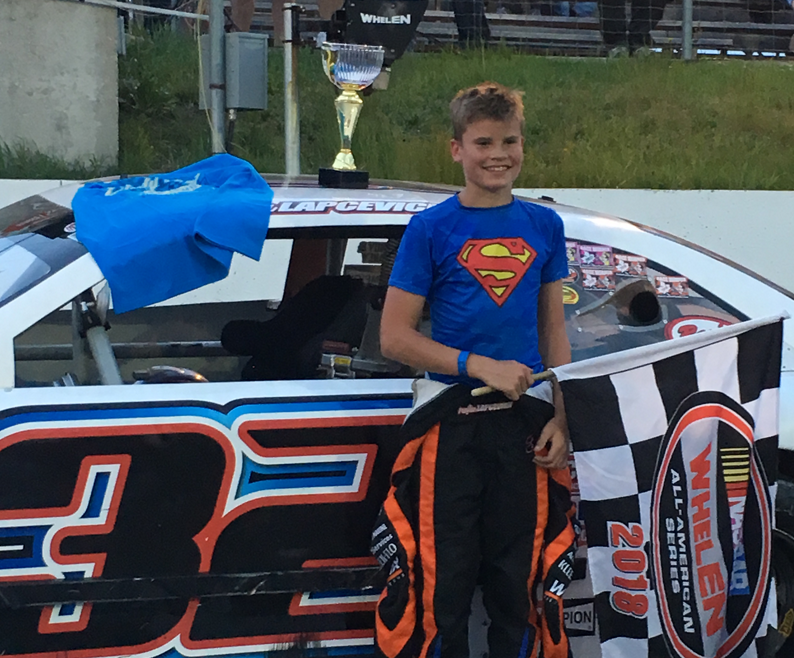 Pulled through for a victory!
As the top qualifier of the 27 cars in attendance I had to do a pill draw for the invert. My luck was still there: I drew a "1" which meant I'd start on the pole for the 50-lap feature.
I led comfortably for the first half of the race which included a couple caution flags and restarts, but as we expected, the car began to lose grip on corner exit and the second-place runner had caught up to me and eventually snuck by on the inside dropping me to the runner-up position. With 15 laps to go as the caution flag waved for a spin in turn two.
I was upset but I knew I had to buckle down and stay focused: there was still time to get back to the front. I restarted on the outside, going side-by-side with the inside car as he used every inch to his advantage. He eventually pulled ahead and I gave him a little bump to let him know I wasn't very happy about getting squeezed against the wall. I snuck passed on the bottom, and as the laps wound down we had a great race. He tried a couple times to move me off the bottom, careful not to spin me around. I managed to hang on for the final stint and get the win. It was a great feeling to get a win when we probably had a third or fourth place car that day.
I'm looking forward to getting back in the APC car in a week at Flamboro Speedway for Round 2 of the series. I'll probably make another start in the Super Stock later this summer as well. Should be fun. It was a great time doing the #ChampionLive–hope to do it again sometime!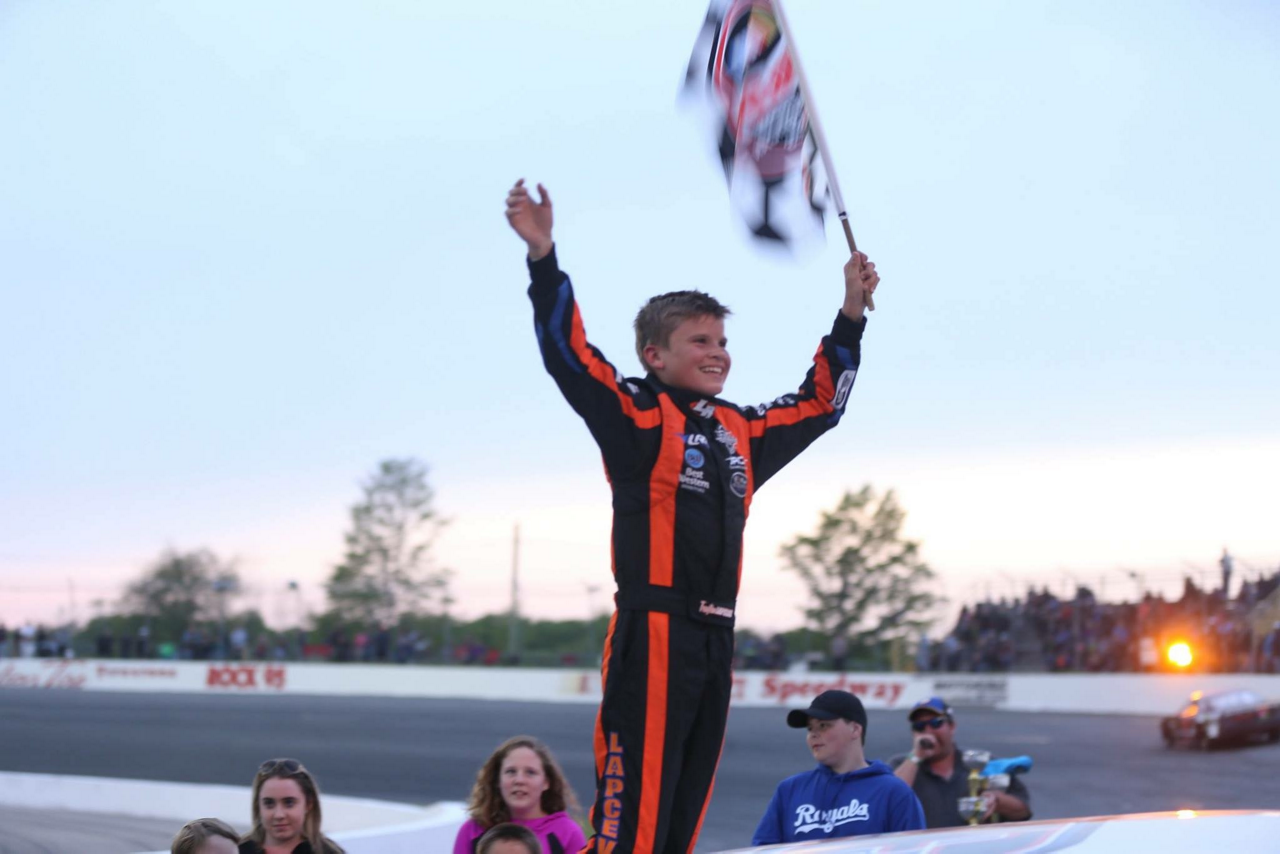 Flamboro Speedway, here I come!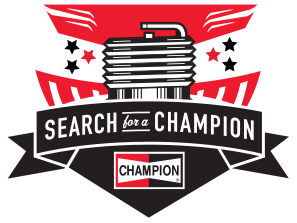 CONGRATULATIONS TO THE 2017 SEARCH FOR A CHAMPION GRAND PRIZE WINNERS
Champion would like to congratulate our 2017 Search for A Champion Grand Prize Winners: On the Track Grand Prize Winner Blake Brown and Off the Track Grand Prize Winner Derek Fetter.