#TeamChampion racer Myles Rowe celebrated his birthday by taking over Champion's social media accounts for the 2016 United States Pro Kart Series at U.S. Air Motorsports, giving Champion fans a deeper look into the world of a Champion racer. Check out his "Behind the Wheel" story to learn the ins and outs of his big weekend!
Q:  Where did the race take place?
A: The race was in Shawano, Wisconsin on June 17-19.  I loved how the track had such a big facility. You could walk all around the track and see almost everything in the races. I loved how there was even a mini amusement park there as well, it looked pretty cool. I also loved how the series let people ride golf carts around the track at the end of the days as well. That was really fun because there were so many hills on the track.
Q: What were some of the most notable activities from the weekend?
A: My favorite part about racing in Shawano was that the track had so many hills and elevation changes. Normally, a lot of karting tracks are either completely flat or close to it, but this track truly made me feel like I was on a road course. There was even one corner on the track they called the Laguna Seca corner because it was almost an exact replica of the famous corner at Laguna Seca called the Corkscrew.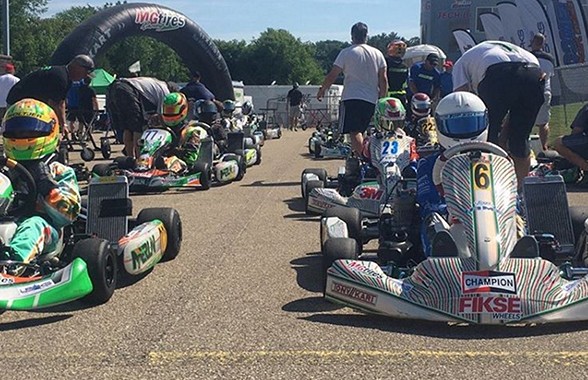 Myles getting ready to kick off his race.
Q:  How did you do at the end of the weekend?
A: At the end of the weekend, we finished 2nd overall in points for that race, which was very good considering we were hit in both races and had to make our way back up the field.
Q:  Anything else you'd like to share about your weekend?
A: Overall it was a lot of fun and it was also my favorite track. I had a different kart, so it was definitely a fun weekend to remember, and I hope I can visit the track again in the future. I turned sixteen that weekend and it was very satisfying because that is also my favorite track I've ever been on. So overall, I am grateful I had a very positive weekend on my favorite track on my birthday.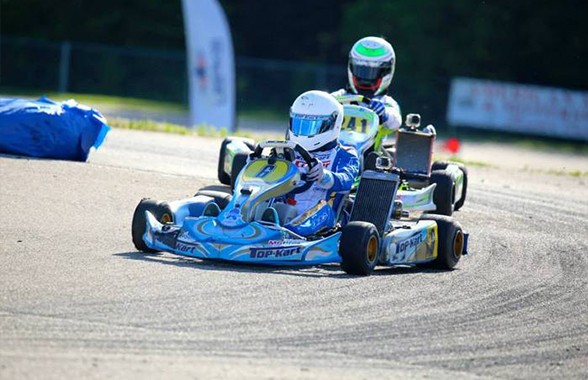 Myles leading the race mid-way.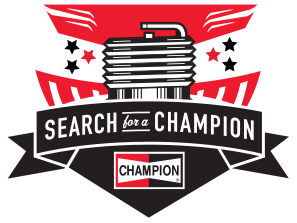 CONGRATULATIONS TO THE 2017 SEARCH FOR A CHAMPION GRAND PRIZE WINNERS
Champion would like to congratulate our 2017 Search for A Champion Grand Prize Winners: On the Track Grand Prize Winner Blake Brown and Off the Track Grand Prize Winner Derek Fetter.